Silence is at the heart of the offers of Raja Yoga Centers. The experience of mental focus helps us to get in touch with our inner source of power and henceforth to live from it.
In 1972, the first Raja Yoga students in Germany got together in Frankfurt. They had discovered the teachings of Raja Yoga with Brahma Kumaris in India and had gained powerful experiences which they wanted to pass on to friends and acquaintances. So they met regularly to meditate together and exchange insights.
Today there are about 17 schools for Raja Yoga Meditation. The main center is still located in Frankfurt and is – like all other centers as well – easily accessible by public transport.
The teachings of the original Raja Yoga are being taught in all schools in such a way that they serve as a basis for experimenting with values and qualities in everyday life and are thus experienced as vivid and useful. The interpersonal encounter is highly valued in all offers. Therefore, in addition to the experience of inner silence, there is also the opportunity to exchange views on-site with Raja Yoga students and people who are on a spiritual path as well.
Our activities are organized and managed entirely by volunteers. People who benefit from our activities often choose to give their time, enthusiasm, skills and support to show their appreciation – and help others to benefit as well from our activities. Each school is funded solely by voluntary contributions and donations of course participants or supporters.
The premises of Raja Yoga schools primarily serve Raja Yoga practitioners as a place to meditate and study together on a daily basis, as well as a place for exchange and encounter. The daily structure in a center consists of early morning meditation followed by a class where spiritual words are being read and studied in order to deepen the meditation practice. These meetings are reserved for regular practitioners only.
In the evenings, usually a common meditation takes place as well as public lectures on various topics. In addition, introductory evenings, ongoing meditation courses, seminars or workshops, film evenings or cultural festivals are offered, which can be found in the programs of the respective center. These take place on-site or by now also online or in a hybrid form. They can be attended spontaneously and without pre-announcement, unless otherwise indicated.
To participate, only an interest in new perspectives, suggestions or deep insights is helpful; as well as a willingness to take inspiration for actions that are aligned with the good of all participants and the planet.
The power of intrinsic motivation
Our activities are organised and managed entirely by volunteers. Individuals who benefit from our activities often choose to give their time, enthusiasm, skills and support to show their appreciation – and help others benefit too.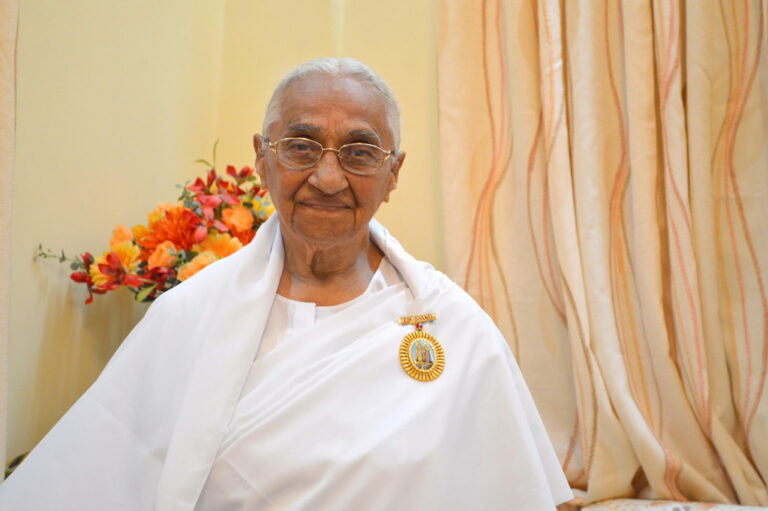 She is the spiritual leader of the entire Brahma Kumaris organization worldwide, including the headquarters, Mount Abu. Being part of the Brahma Kumaris community from the beginning and at a young age shaped her life. Until today she embodies her name "Most Beautiful Jewel".
She spreads light and lightness; inner tensions are unknown to her. With all her heart she dedicates herself to the training of spiritual teachers all over India. She is an inspiration for a team of young people who are concerned with personality development and inner growth, especially of young people. Despite her advanced age, she exudes great vitality and has remained young at heart.
CO-ADMINISTRATIVE SPIRITUAL LEADER
She is the second director of the Brahma Kumaris (BK). Since her childhood associated with Brahma Kumaris, she studied at the University of Delhi. Together with the founder Brahma Baba, she opened many Raja Yoga Meditation Centres in India. From 1974, she established a BK presence in North America, first in the Caribbean in 1976 and then in New York in 1978. She is president of the Brahma Kumaris World Spiritual Organization of the USA, coordinator of the Brahma Kumaris for the Americas and the Caribbean, and representative of the BKs to the United Nations in New York.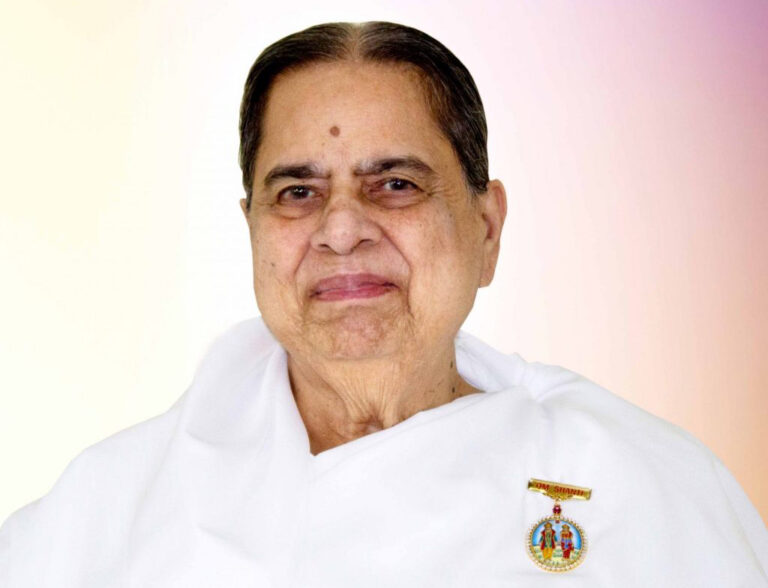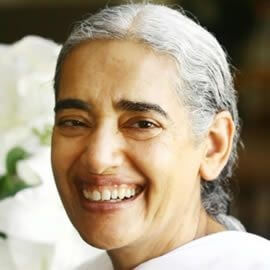 CO-ADMINISTRATIVE SPIRITUAL LEADER
She is the third leader of the Brahma Kumaris. Born in India, she received her education in London / Great Britain (UK). Her family was instrumental in bringing Raja Yoga Meditation to the Western world. Her encounters with the founder Brahma Baba inspired her to pursue this spiritual study at the age of 19. Her particular biography prepared her to combine the wisdom of the East with the spiritual values of the West. At a young age, she co-operated in the establishment of BK centres in London, Hong Kong, the Caribbean, Japan, South Africa and several European countries.
Today, she is the director of the International BK Co-ordination Office: Global Co-operation House, London, Global Retreat Centre, Oxfordshire, and director of BK centres in Europe and the Middle East.
She represents Brahma Kumaris at the United Nations (UN) in Geneva and Vienna as an NGO representative. An eloquent personality, she has participated in many UN conferences and projects related to the environment, climate change, women, development, youth and so on. In this capacity, she communicates extensive spiritual values in global change and their importance to humanity.